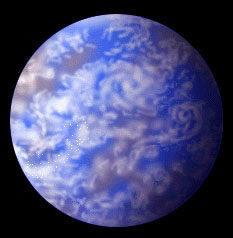 oceanearth
News, Links to Current Research, and a Few Views on Marine and Maritime Topics
Background
For Participants
Get Involved
Learn More About ...

View from the top of Mt. Finkol
COULD LISTENING TO THE DEEP SEA SAVE IT?
A discussion of sounds of the deep
Listen HERE
FASCINATING HYDROPHONE SOUNDS FROM AROUND THE PLANET
You can listen in
HERE
RESULTS OF A GREENPEACE EXPEDITION TO MONITOR ILLEGAL PACIFIC FISHING
Summary of findings from the Esperanza's expedition, September - December 2011.
The Esperanza encountered 63 fishing vessels in total during the expedition, including an illegal, stateless and unmarked purse seine vessel operating with six other support vessels in what appeared to be a group operation. Read the Expedition Report
HERE
2012 GREENPEACE REPORT ON THE STATE OF THE OCEANS
Overfishing, pirate fishing, destructive and unsustainable fishing methods, rising temperatures and ocean acidification, wide-scale coral bleaching, increases in invasive species due to climate change, pollution due to factories on land, pesticides and nutrients from agriculture, sewage, plastics, toxic chemicals and oil resulting from spills, and now even threats from potential deep ocean mining. Read the On-LIne Report
HERE
DEMA AND SHARK FIN SOUP
DEMA (The Diving Equipment and Marketing Association) held its annual industry show in Las Vegas this year. The "official hotel" of the conference was, as in past years, the Las Vegas Hilton, located next to the Las Vegas Convention Center.
DEMA is the largest meeting of dive industry professionals in the world and is attended by equipment manufacturers, retailers, training agencies, scuba educators and others, including non-profit organizations like oceanearth. This is certainly among the largest annual gatherings of individuals interested in preserving the viability of the ocean and its inhabitants.
It was, then, with a fair degree of surprise and consternation that some of us discovered that one of the Las Vegas Hilton's featured restaurants - The Garden of the Dragon - prominently and evidently proudly featured shark fin soup on its dinner
menu
(see the "specials").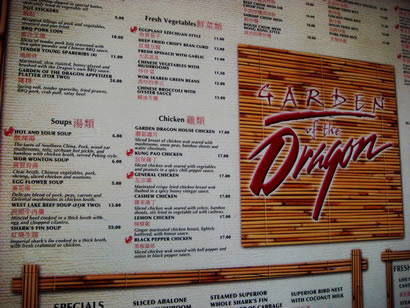 Garden of the Dragon Menu on Display in the Promenade of the Las Vegas Hilton
$55.00 is the Dragon's charge for a piece of shark slaughtered for only its fin, which is essentially a garnish for a bowl of soup that is actually more predominantly pork or chicken. The fin's cartilage adds no flavor or significant nutrition.
The University of Hawaii has estimated that 89 million sharks are killed every year for their fins. It's a cruel death. Deprived of its fin and unable to swim, the shark is thrown back to die from starvation or suffocation. It is generally recognized that sharks, like many other pelagic species, are in serious decline. Some estimate a 90% loss of certain shark species.
One can hope that in the future DEMA will do its homework and choose to do business with a hotel that supports, rather than works against, the interests of the dive industry it represents. It is probably too much to ask that the Las Vegas Hilton itself would actually "walk their talk" of being an environmentally conscious enterprise by insisting that their businesses act in an environmentally responsible manner. For $55 a bowl, that may be too much to expect.
UPDATE
The DEMA board has released the following statement:
It has been brought to the attention of the DEMA Board of Directors that certain restaurants in the Las Vegas Hilton Hotel, host hotel for this year's DEMA Show 2010, feature shark fin soup on their menus. DEMA joins the entire diving industry in its condemnation of the practice of shark finning.

There are many criteria taken into consideration when selecting hotels for the DEMA hotel block and heretofore restaurant menu selections have not been part of the decision making process. Going forward, DEMA will commit to using our business influence to change this item if it appears on menus in restaurants associated with future DEMA Show convention facilities.


If you support the elimination of shark finning and the preservation of shark species, you can help by expressing your opinion to the Las Vegas Hilton's CEO David Monahan, to the Board of
Directors
of DEMA, or directly to the Garden of the Dragon Restaurant.
You can learn more about the devastation caused by shark finning by reading this
factsheet
or visiting the following sites:
WildAid
Shark Savers
Shark Research Institute
Restaurants
in Your Area Serving Shark Fin Soup
SAHARAN DUST IMPACTS CARRIBEAN CORAL ?

Take a look at this USGS documentary by Matthew Cimitile which presents how recent changes in the composition and quantities of African dust transported to the Caribbean and the Americas might provide clues to why Caribbean coral reef ecosystems are deteriorating and human health may be impacted.

Additional information can be found at: http://coastal.er.usgs.gov/african_dust/
and at http://gallery.usgs.gov/videos/223


SEVERN SUZUKI'S SPEECH AT THE 1992 EARTH SUMMIT - WHAT'S CHANGED SINCE?
In 1992 Severn Suzuki, daughter of well known scientist David
Suzuki
made an impassioned speech at the United Nation's Earth Summit in Rio de Janeiro. She was 12 at the time. This speech is worth listening to from time to time. Nearing 20 years later, one wonders what, if anything, has changed since.
You can download the speech
HERE
. WMV file (4 meg)