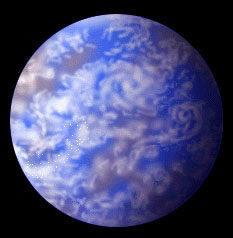 oceanearth
The Kosrae Coral Reef Monitoring Project
Background
For Participants
Get Involved
Learn More About ...

Kosrae's Sleeping Lady
The Kosrae Mooring Buoy and Reef Protection Project is a joint effort of private participants and a government agency of the island state of Kosrae (Federated States of Micronesia) to install and maintain a mooring buoy system and to assess and monitor the health and status of the island's fringing reef. Fifty-five Halas-type buoys have been installed and are currently used by dive operators and fisherman to avoid the necessity of anchoring directly on reef structures. The buoys also provide permanent sites at which an ongoing program of reef monitoring can be performed.

The Kosraean reef system is recognized as being one of the most pristine in Micronesia. The relatively small population of the island combined with an indigenous respect for the island's natural resources has minimized the extent of reef degradation. In the past, there have been few dive operators and a limited number of tourist-related operations; relatively few divers have visited the reefs.

In 1996, Continental Micronesia added Kosrae to its regular flight schedule, a fact which has increased the number of visitors to the island. At the same time, the United States, formerly the territory's trustee, has continually reduced its level of monetary support to the FSM. These developments make the potential for expanded reliance on tourism and economic exploitation of marine resources obvious. Both will bring increased pressure on the reefs.

Working together, the Kosrean government, local dive and resort operators, and international volunteers have successfully maintained both the buoy system and a reef monitoring program since 1996. Continued maintenance and information gathering will play a major role in preserving and protecting this precious natural resource.

You can help our efforts to preserve the reefs by making a donation of any amount. Since Oceanearth is a recognized 501(c)3 organization, depending on your individual tax situation, your donation may be tax deductible. Your donation will help defray the costs of underwater temperature monitoring devices and mooring buoy equipment and supplies.

Questions? Please contact us directly with any questions you may have. We are always eager to share our knowledge and research. Thank you for your support!

KOSRAE VILLAGE ECOLODGE
AND
THE KOSRAE
REEF PROTECTION PROJECT
WIN THE
PADI PROJECT AWARE
2006
ENVIRONMENTAL
ACHIEVEMENT AWARD !!!